Greeting guests in the courtyard and keeping watch over the garden this Dragon railing is now part of the sculpture collection of Kathryn Andersen.
See a short slideshow below.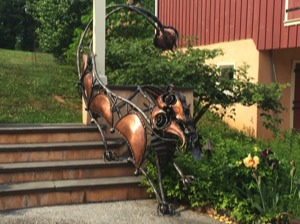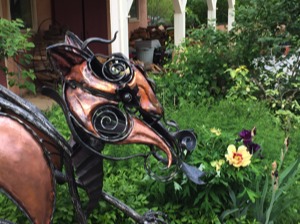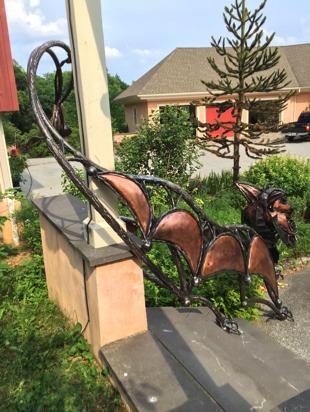 Video of a recent gate "Orions Arrival" added to Kathryns collection.
We were honored to be commissioned to construct a memorial sculpture that captured the sprit and strength of a loved one gone too soon. After consultations with the family, the design was created with the form of a ceremonial dagger called a Phurba as its foundation. Within the three sided form a hand forged copper urn is delicately embraced and balanced. The lid having an acorn and oak leaf, reflecting growth and nature. The spiral loosely relating to a handle, but more so to metamorphosis and transformation . With a structure that references both DNA and a cocoon form, the spirit represented as a butterfly is released. Candles serve for illumination of memory and ongoing private rituals of remembrance.
Follow the
LINK
for a brief slideshow of the construction.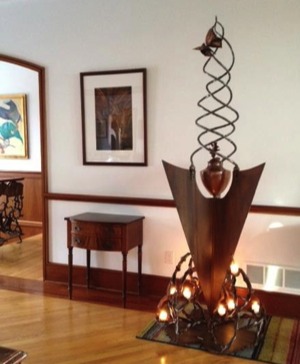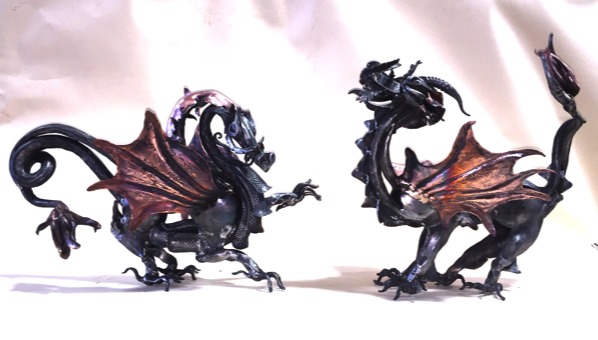 The Dragonlair sculpture is complete and installed.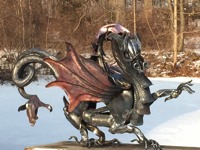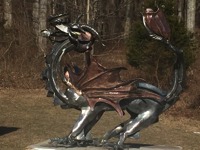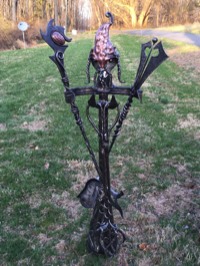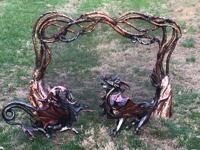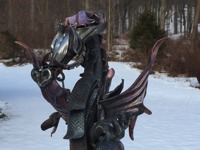 Two custom ENERGESTIK sculptures have been delivered. They have the ability to be place in different sites for varied seasonal enjoyment.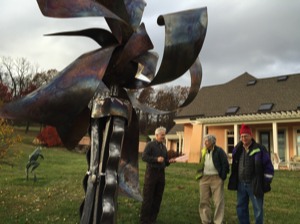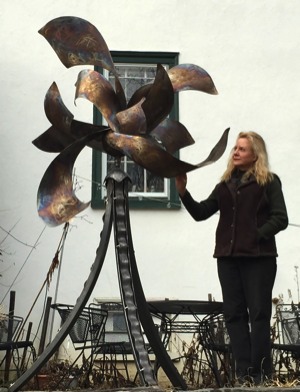 Now completed this gorgeous tree sculpture serves as a railing in a barn converted to an art filled home.
Please click the image to see a short slide show of more images. Or enjoy the video below.

Recently completed, two beautifully made wooden garden gates that we are making hand forged sculptural inserts for. The client requested hummingbirds and trumpet vine for one , and the second larger will have a stylized Japanese maple design by Tiana . A couple of owls will grace the branches and it will have an open design allowing for visibility through the porthole. Dave Wentzel of
Red Rock Arts
created them for Stoney Bank Nurseries and their client. Since moving back to the area 10 years ago Dave has collaborated on numerous projects with us and has an impressive portfolio of high end work . Be sure to check out his website. Link to the construction process of the Gates
HERE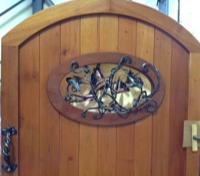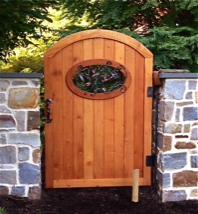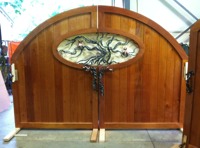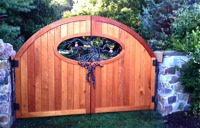 Installed in its cupola is a 10 foot high sculptural "cornvane" designed by Tiana. It sits on a large barn at the
Charlestown Farm
and CSA who offers organic produce to members of the CSA and at the Phoenixville Farmers' Market. Another cool website to take a look at. Click HERE to see a page with a short process photo slideshow. The installation is captured in the video below.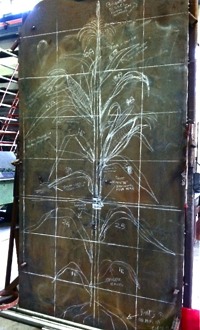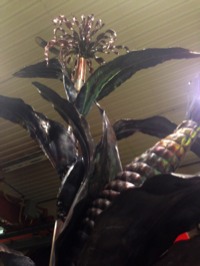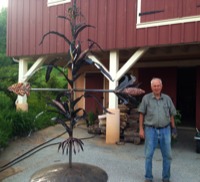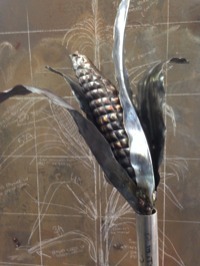 Greg and Tiana have made a series of "totem" fence posts to create a 10 foot high fence structure to support a wall of roses in the demonstration garden at Conard -Pyle. Initial concept photo with the finished sculptures, installation and a video portfolio below.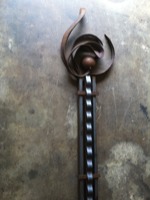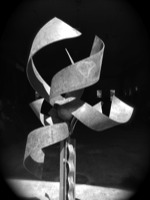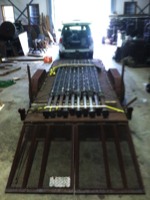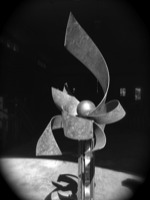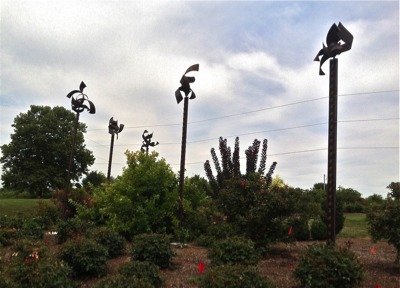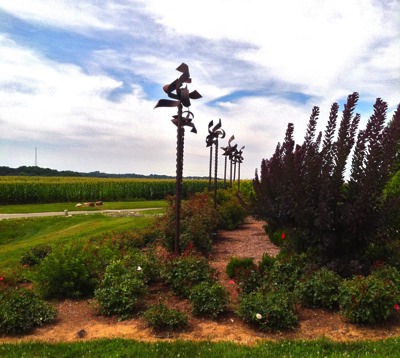 Now complete and installed is this incredible project for the new demonstration gardens at the CONARD-PYLE company. The sculpture titled Macromergence is 15 feet high, weighing 6,000 lbs created by Greg Leavitt and designed by Tiana Leavitt for Conard -Pyle Star /Roses and Plants had some prime directives for the artists from Steve Hutton. These were that it should be, energetic, dynamic exuberant, have a sense of whimsy, be interesting from all angles and provide a sense of discovery through repeated viewings. The site itself enjoys a prodigious breeze and the ability to have some movement was requested
Our initial footprint was a 38 foot 5 point star positioned in a key sight point in the newly emerging demonstration garden. In consideration of the work in genetic engineering that is at the core or CPs worldwide success with the Knock Out (tm) rose and others in development, combined with the directives; Tiana went to the core of the flower and to the seed for inspiration. The goal, to represent the magical processes at the heart of germination, the sexuality of flowers and their beautiful reproductive structures? Stamen , ovules, mitosis, the DNA ,the energy of a seed sprouting. And of course the incredible myriad of seed form designs , many only seen in their glorious detail in electron micrographs. Amalgamating these things, making the invisible wonder of the micro world macro became the basis of the sculpture. With a huge footage area to occupy the sculpture needed to have enough weight to hold up to the big sky space of the garden , yet have a spacious complexity and lightness of spirit. The studio where Greg would create this sculpture has equipment capable of utilizing several different processes, including hot forging , cold bending , plasma cutting and of course, welding. The design needed to take these capacities into consideration as well as those of weight and transport. To that end it needed a design engineered such that would allow the sculpture to be fully constructed in the studio and disassembled for transport to be permanently welded at the site .

Through several site visits during construction Steve had the opportunity to observe and participate in all the processes used in creating the sculpture, and there are a few few parts forged by his own hand within it.

The completed sculpture took 12 months to engineer, create and install. It is 38' wide by 15' tall and weighs approximately 3 tons. It is constructed of mild steel , copper and bronze. The patina is a controlled rusting process which has been sealed with a clear finish.
Please click on the image to be redirected to a full page about the project.
BELOW "Pomona" Honoring the timeless Fig this demure garden or conservatory sculpture is sure to create a focal point and conversation piece in the landscape. One has a new home , but we have one more available and are able to do custom orders .Pomona was the goddess of fruit trees, garden, and orchards. Unlike many other Roman goddesses and gods, she does not have a Greek counterpart. She watches over and protects fruit trees and cares for their cultivation. She was not actually associated with the harvest of fruits itself, but with the flourishing of the fruit trees.

Tiana has a concept for a TRIO of these as ballet dancers in different poses with the option of them swiveling on the base. If this sounds like something you would like , give her a call!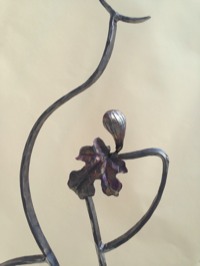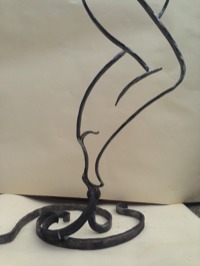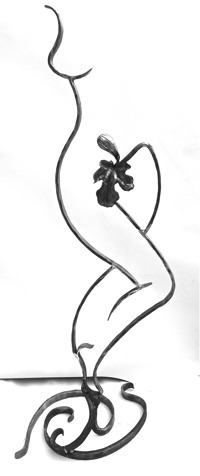 A set of andirons and a fire basket for a very classy client. It now lives in a lovely historic fireplace. She requested a bramble rose tangle, and she got it!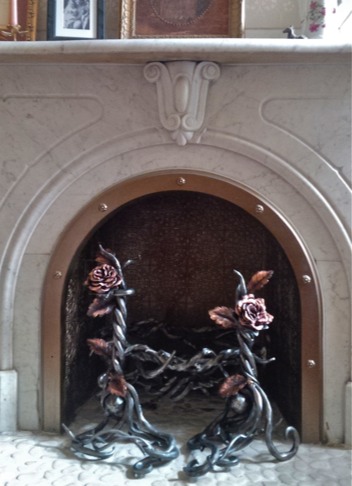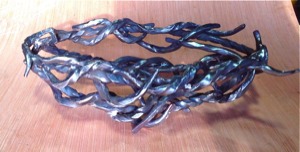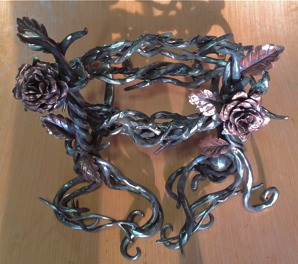 Completed for a dedication was a bronze and copper memorial bench with a fieldstone seat. Designed with a long and varied wish list from the client, It now resides in Laurel Hill Cemetery and serves as a place for reflection for the family members. Please click image below to see more.