INTRODUCTION TO LEAVITT STUDIOS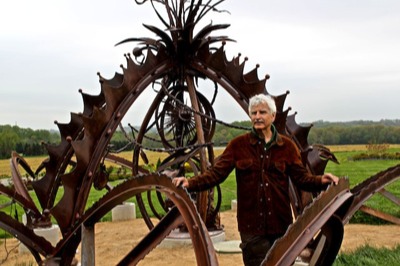 Leavitt Studios located in Berks County PA creates commissioned sculptural metalwork. The 5.500 square foot studio built in 2000 has 22 foot ceilings, a 5 ton overhead crane , and is fully equipped to create large scale sculpture. All work is forged, fabricated, and created in house. None is sub-contracted elsewhere. This hands on approach allows for the love of material and process to be imbued into the spirit of the work. The viewer responds to this time-honored process steeped in the blacksmithing tradition.
Greg Leavitt heads up the studio with over 40 years of experience.
The work is primarily done on commission and they do not rely on gallery connections. The studio has forged a niche from doing major works in landscape and horticultural settings. Some of the works may have a functional purpose in the way of gates, arches and railings.
Greg's sculptures can be found in many private gardens in the Tri-State area, as well as in public locations. These include , the Scott Arboretum at Swarthmore College and The Upper Chesapeake Medical Center Women's Pavilion in Maryland.
In Delaware,he and his daughter Camille created the entrance gate at Mt. Cuba Horticultural center and were selected to create a wall sculpture for a new garden at the Governor's Mansion in Harrisburg.
Greg is a passionate mountain biker ,when he is not thinking about or making ironwork, he is thinking about or riding his bike.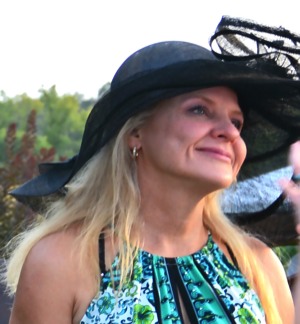 Greg's wife Tiana, studied at University of the Arts and ran her own business for 22 years as a Production Coordinator, stylist and designer of sets for commercial photographers and advertising agencies.
Since 1997, she has worked in the studio with Greg as a designer, coordinator and consultant. There is a portfolio within this site of projects she has been the primary designer on over the last 15 years. She created and maintains the website and manages the 20 acre farm with a dozen critters. When you cant find her, she is out working with her new young horse Cambridge.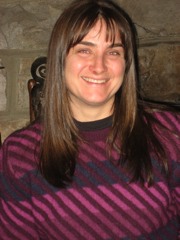 Greg's daughter Camille studied painting at the PAFA and has been immersed in art, horticulture, and the craft of blacksmithing her entire life. As a child she was a helper and apprentice in her fathers blacksmith shop, where she learned how to cut leaves out of steel and later hammer them into remarkably lifelike forms which often appear to be growing to the light and turning with the wind. She worked with Greg on projects for over 15 years, and has many accomplished commissions of her own.
Now in her forties, Camille is an artist in her own right although retired from metalworking, she has some one-of-a-kind treasures for sale such as furniture, bird baths, candle holders, hooks and more.
Please contact her directly for more information about her work. (610)413-1518